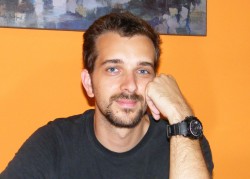 My name is Daniel Barbosa (also known as Leonhartsberger, one of my surnames), was born in Porto, Portugal, in 1982 and from 2008 I live in the city of Barcelona, Spain.
I love any kind of technology, and I have a background on computer programming, but what I really like is the frontend, I work with it for over 6 years now.
But not always I like being locked up, especially in Summer, I go out with the bike, the motorcycle, go diving, go to the beach, etc.. I try to travel whenever I can, whether in Winter or Summer.
This is my personal blog. It record news, ideas and occurrences that I like to share. I also share some of the trips I do or I plan to. I'm not a great writer (I do not even think I am one of the goods), but I found that writing some ideas helps polish them, while acquiring some practice and improving technique. And maybe even writing can serve someone else.
I will not say much more about me (which is another uncomfortable situation). I'll let the contents of this blog describe myself. I appreciate your visit, the time spent reading my articles and comments you write down.
I hope something here is helpful for you.
–
Daniel Barbosa
Daniel Barbosa is on Facebook and LinkedIn